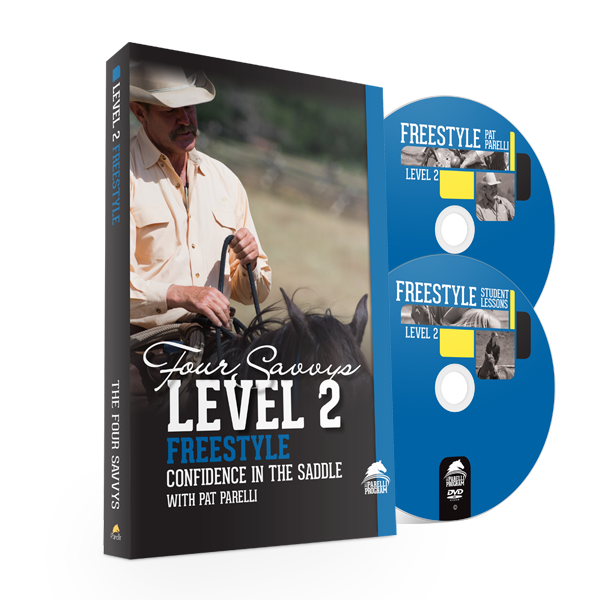 Savvy Series Level 2 FreeStyle
Sale price
$107.00
Regular price
$79.93
Product description
Shipping & Return
In the saddle, relaxation, and control with loose reins, and bridleless.
Saddling with Savvy
Introducing the Saddle
Saddle Like a Horseman
Cinching & Girthing
Pre-flight Checks with a Saddled Horse (from the ground)
Bridling
The Hackamore
Lateral Flexion: A Brake Check for Your Horse
Adding New Habits & Breaking Old Ones
Mounting & Dismounting with Savvy
Mounting as a Friendly Game
Dismounting
Active Reins Direct Rein: Moves the Forequarters
Indirect Rein: Moves the Hindquarters
Guiding Your Horse: Direct & Indirect Rein in Action Inactive Reins
One Rein Stop
Controlled Catastrophes
Preparation
Impulsion
Go & Whoa
Impulsion & Phases While Riding
Phases While Riding
Passenger Lessons
Follow the Rail
Riding as the Leader
The 9-Step Back-Up
Focus & Point-to-Point
Casual to Concentrated Reins
Bullseye Game
Sideways Game
Patterns
Follow the Rail
Figure 8
Weave
Shipping cost is based on weight. Just add products to your cart and use the Shipping Calculator to see the shipping price. There is an additional handling surcharge for oversized items, if length, width or height exceeds 1m
We want you to be 100% satisfied with your purchase. Items can be returned or exchanged within 30 days of delivery.