What is Horsenality®?
Horsenality® is the term that Pat Parelli coined to refer to understanding horses through their basic personality types. A combination of the words "horse" and "personality," Horsenality® is a convenient way to talk about horse behavior in conjunction with the Parelli Natural Horsemanship method.
One of the goals of the Parelli program is to help horse owners understand their horse's individual personality and to educate people about how to teach their horses in the ways that are most effective for each personality type.
The Horsenality® system helps students quickly identify a horse's innate character. Students can then create instant rapport and achieve great results by knowing what's uniquely important to that individual horse. This approach to understanding horses helps horses -- and their owners -- become more balanced, centered and confident.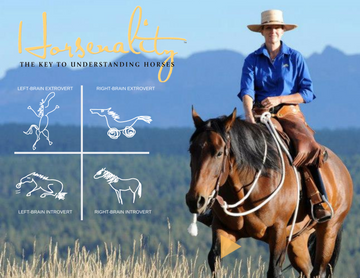 Shop Horsenality®
Our Horsenality® products are available only on our US store. Click the button below to be redirected there now.