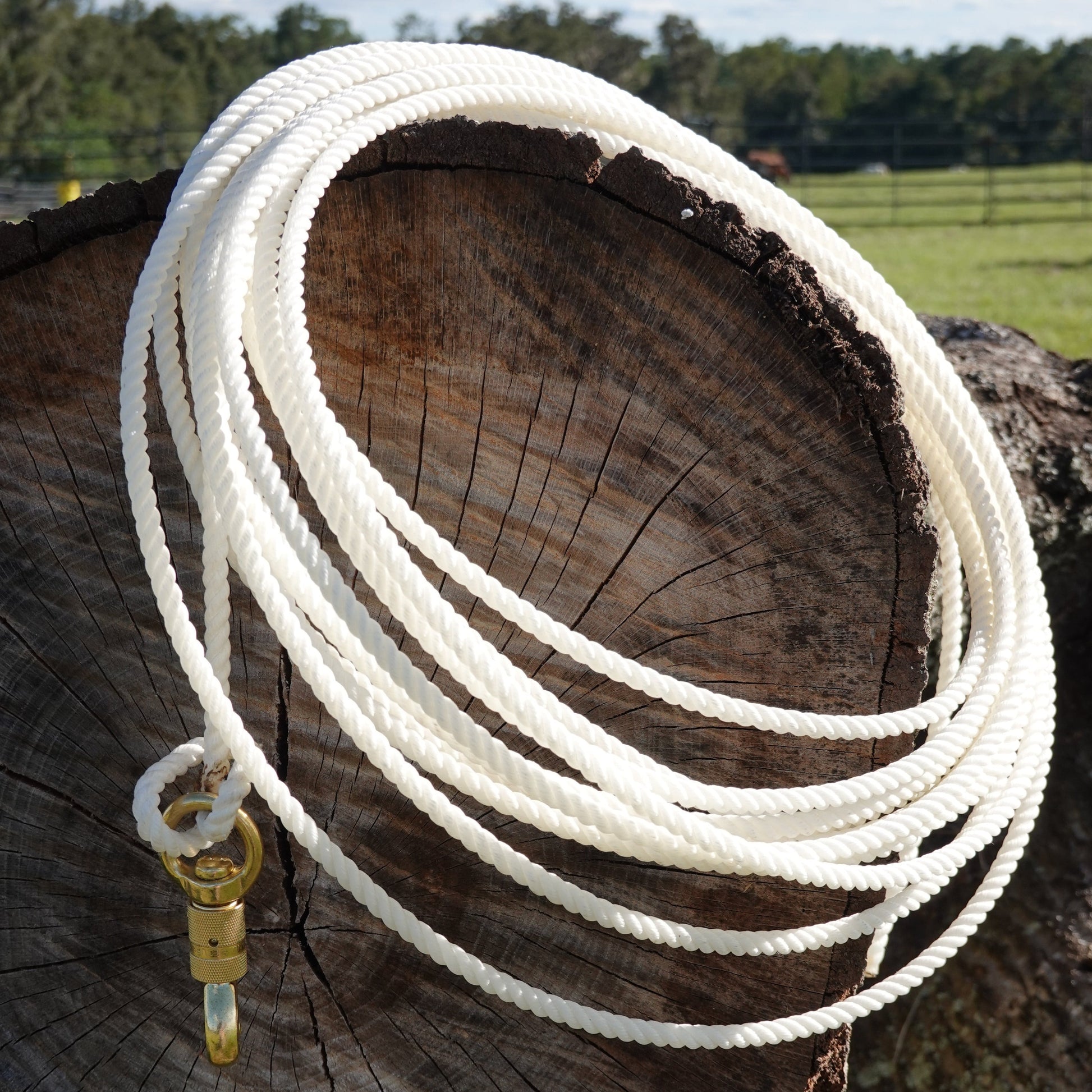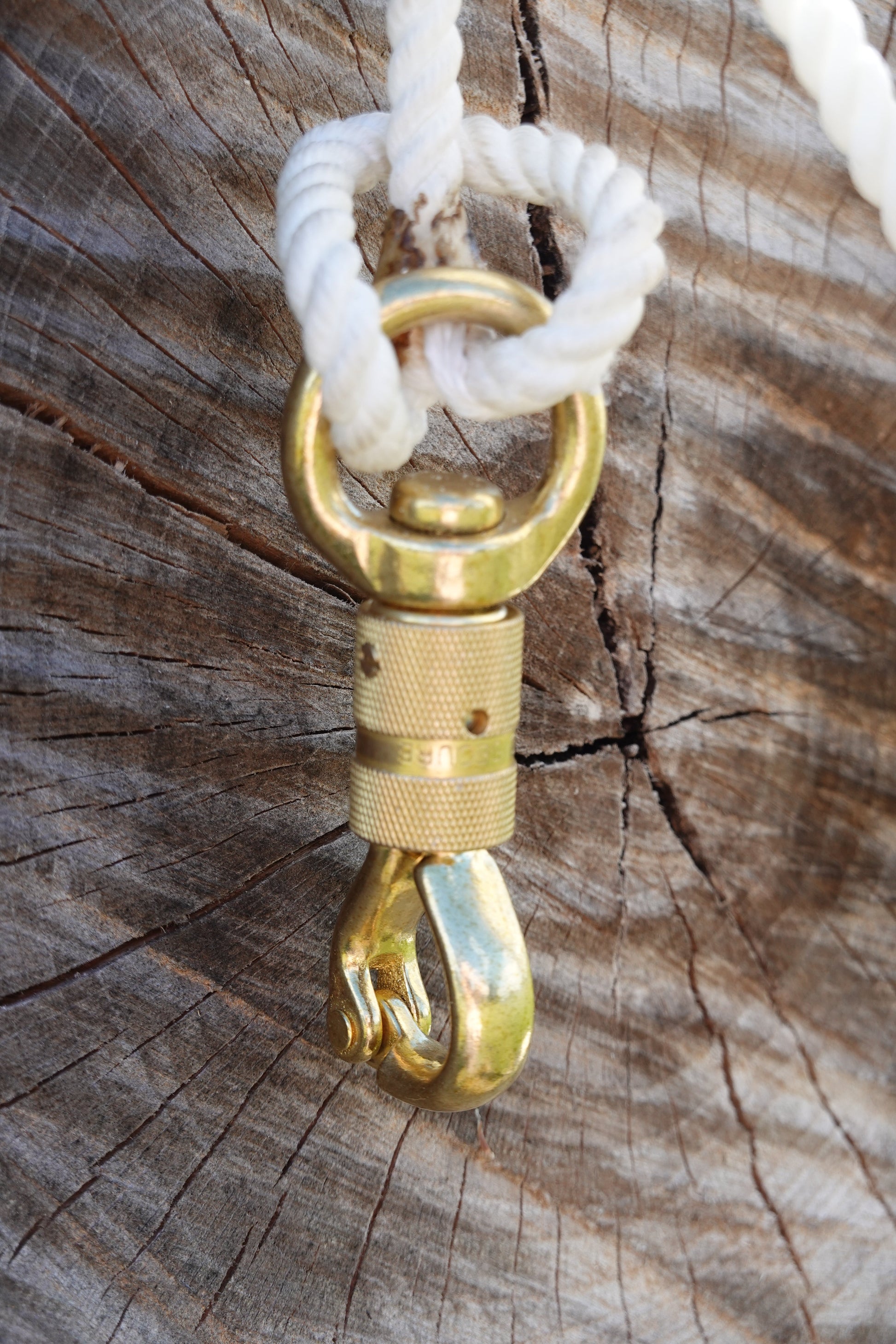 45 ft Ground Training Line
Sale price
$174.00
Regular price
Product description
Shipping & Return
Take the communication with your horse to the next level with our 45-foot Ground Training Line. This is a Parelli designed, softened version of a Roping Lariat. It is an essential tool for developing your horsemanship skills on the ground from greater distances, particularly from Levels 3 to Level 4 On Line, and as you continue to advance.
45-Foot Triple X softened, 3/8-inch diameter lariat rope for horse handling.
Honda loop on the end for quick-change accessories (for example, a snap or karabiner).
This kit includes a snap to use with this honda. The snap is a swivel to prevent tension and stop the rope from coiling up under the horse's chin on his halter.
This rope is good for all climates, including damp ones, as the Lariat resists attracting dirt and water—Thus, never getting soggy.
Soft twist, similar to a good ranch type rope for doctoring or working with animals. This is not a stiff, roping rope .
Pro tip: Keep playing with it until the wax is worn off and the rope is broken in.
Great rope for simulations as it offers a lot of sensitivity and feel. 
*Also called: 45-Foot Line; 45-Foot Lariat; 45-Foot Lariat Rope.
Pat Parelli had the lay of this nylon lariat deliberately softened for horse handling. As he says, "It has life, sensitivity, and lightness." 
Improve your handiness, your drive and draw, the clarity of your phases, and your overall connection with your horse.This product is ideal for dealing with wild or under-developed horses as it allows the horse maximum drift as well as more agility for the horseman.
Pat Parelli's first horse training mentor was Troy Henry from Clovis, California. He shared with Pat the psychological advantages of teaching the horse all of his basic education on the ground in a round corral as well as on line. Troy always used a 45-foot line. You had to be very athletic and handy in order to use this tool
When Pat first started doing his clinics in the early 1980s, it became obvious this was a great tool, but not necessarily a great one to start with, hence the reason for the 12 and 22-foot lines. The difference between the 45-foot training line and the others is the material. The yachting braid is softer on your hands but also heavier, the 45-foot line is made from a triple soft Lariat material and is much lighter but still has the special feel that horses respond positively to.
The reason the 45-foot rope has a psychological effect on horses is because they are great judges of distance and approach, and it blows their minds how you can be so effective and communicative from such a distance.
Used correctly, your horse will soon want to connect to you and follow your suggestions even if you drop the rope. Suggested for solid Level 3 students and above.
Shipping cost is based on weight. Just add products to your cart and use the Shipping Calculator to see the shipping price. There is an additional handling surcharge for oversized items, if length, width or height exceeds 1m
We want you to be 100% satisfied with your purchase. Items can be returned or exchanged within 30 days of delivery.